September 2-6, 2020
Between September 2-6, 2020 Fresh on the Fly offered a Beef Wellington Labour Day Take Home Family Meal. It's a 3 course meal for your family available every Wednesday – Sunday. This meal is suitable for four people and was only $95! Our so very delicious Beef Wellington Labour Day Take Home Family Meal will give you a taste of home. This meal is available for pickup from The Arms Public House or delivery from Fresh on the Fly!
This weeks Take Home Family Style Meal contains…
Mixed Greens salad with roasted beets, goat cheese, asparagus with toasted peach vinaigrette
Beef Wellington – Each beef tenderloin is wrapped in mushroom duxelles and covered in prosciutto and puff pastry
Truffle mashed potatoes
Green Bean almondine
New York style Cheesecake topped with house-made strawberry coulis
Add on a bottle of California McManis Cabernet Sauvignon for only $35!
This Labour Day Family Style Meal is perfect for the long weekend because of all our fresh and local ingredients!This meal is only $95 and is suitable for 4 people. There is $5 peninsula delivery only on Friday September 4th between 2-5pm. Max 10km delivery radius. Free delivery with purchase of a bottle of wine or if more than one meal is purchased.
This meal is available from September 2 – 6, 2020 with pickup available at The Arms at 1515 South Park Street inside the Lord Nelson Hotel – earlier pick ups can be arranged via email at [email protected]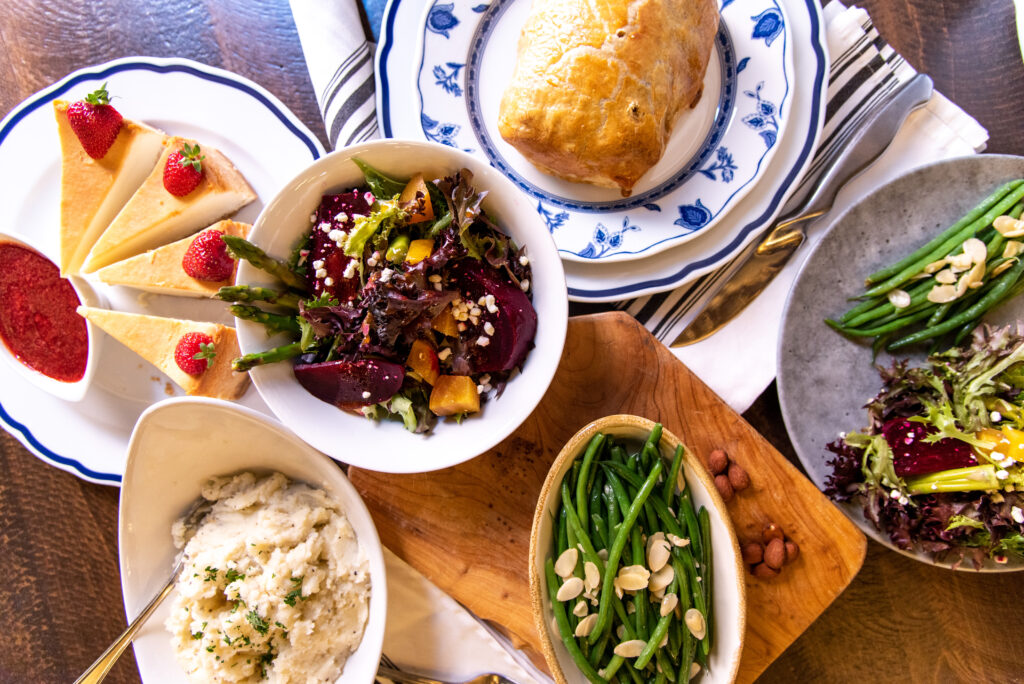 McManis Cabernet Sauvignon is a must have because it is the perfect wine to pair with your Beef Wellington Take Home Family Meal. The McManis family has been farming in California's northern interior for four generations. In 1990, fourth generation farmer Ron McManis and his wife Jamie founded the McManis Family Vineyards and today they farm over 2,600 acres of wine grapes. They produce a range of white and red wines from grapes sourced from ten estate vineyards.
Tasting Notes
Ripe blackberries, fresh boysenberries and plums with chocolate notes, vanilla and toasty oak. Soft and smooth on the palate with jammy dark fruit and creamy vanilla flavours. A rich and warming wine for those who so enjoy big upfront flavours and velvety tannins.