Restaurant quality butchery and top quality beef for cooking at home
The CUT Steakhouse Feast Box features a range of high-quality signature cuts straight from the CUT dining menu. All steaks come individually vacuum-sealed provided with detailed and easy to follow cooking instructions from Chef Dwayne MacLeod. Each box is designed to guide you on how to make the best of these top-quality ingredients.
Featuring specialty sourced cuts of beef from top Canadian farmers such as….
Tenderloin – Atlantic Beef Blue Dot Reserve
Striploin, Bone-in and Boneless Ribeye – Atlantic Beef AAA
Bone-in Ribeye, Boneless Ribeye & Striploin – 30 day dry aged Alberta Certified Angus
Tomahawk – Atlantic Beef Blue Dot Reserve
Wagyu Striploin – Westholme, Queensland, Australia
Each box is ready for your home!
These Feast Boxes are the perfect addition for backyard BBQing, or better yet, bring it with you camping or treat your friends and family at the cottage. From burgers, steak, lobster and sides that pair perfectly, enjoy CUT Steakhouse quality meals in the comfort of your own home. Fire up the grill on our Feast Box will provide all the ingredients you need for a delicious meal.

All Feast Boxes include signature steak spices, cooking instructions and buns/condiments for burgers. Enhancements such as Caesar salad, shrimp cocktail and house made sauces are available to add on.
EMAIL [email protected] TO ORDER
For questions or inquiries please email [email protected] or call 902-932-8585. All Feast boxes are tax free. Additional Family meal menus available HERE.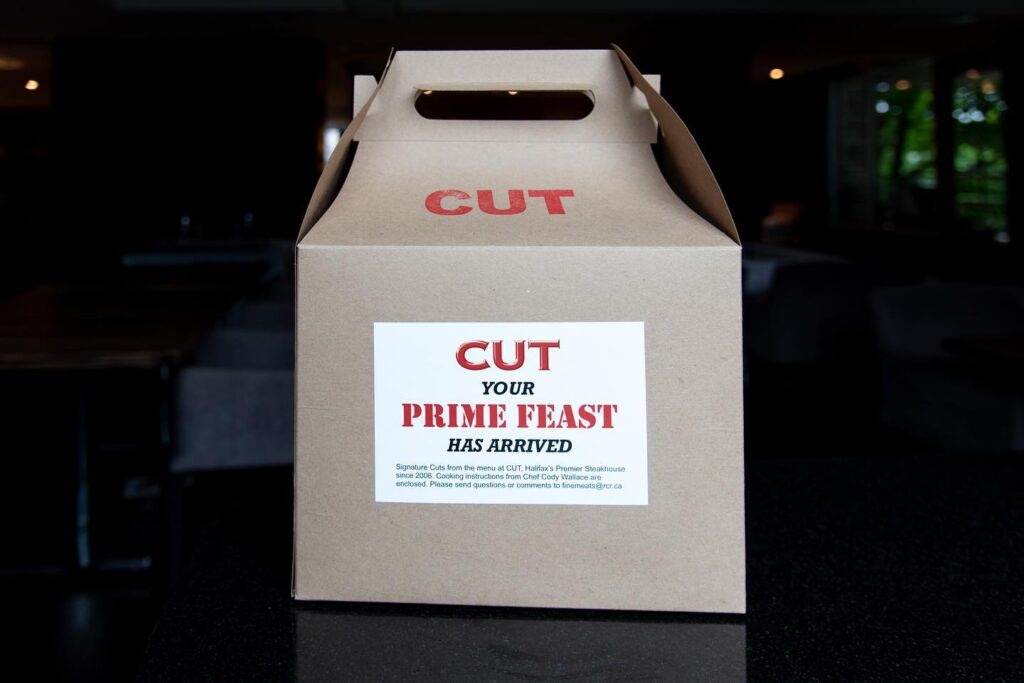 Committed to Excellence
Since opening in 2006, CUT has received the 4-Diamond AAA/CAA Award and Wine Spectator Award of Excellence each year. Every cut of steak, every cocktail, every table setting meets our exacting standards. Join us and see what makes us one of the city's top restaurants. Host your next private function at CUT and elevate your guests' experience from everyday to extraordinary. Learn more about CUT Steakhouse here.