September 16-20, 2020
Between September 16-20, 2020 Fresh on the Fly offered a Taste of Portugal Take Home Family Meal. It's a 3 course meal for your family available every Wednesday – Sunday. This meal is suitable for four people and was only $65! Our Taste of Portugal Take Home Family Meal offers traditional dishes and flavours. This meal is available for pickup from The Arms Public House or delivery from Fresh on the Fly!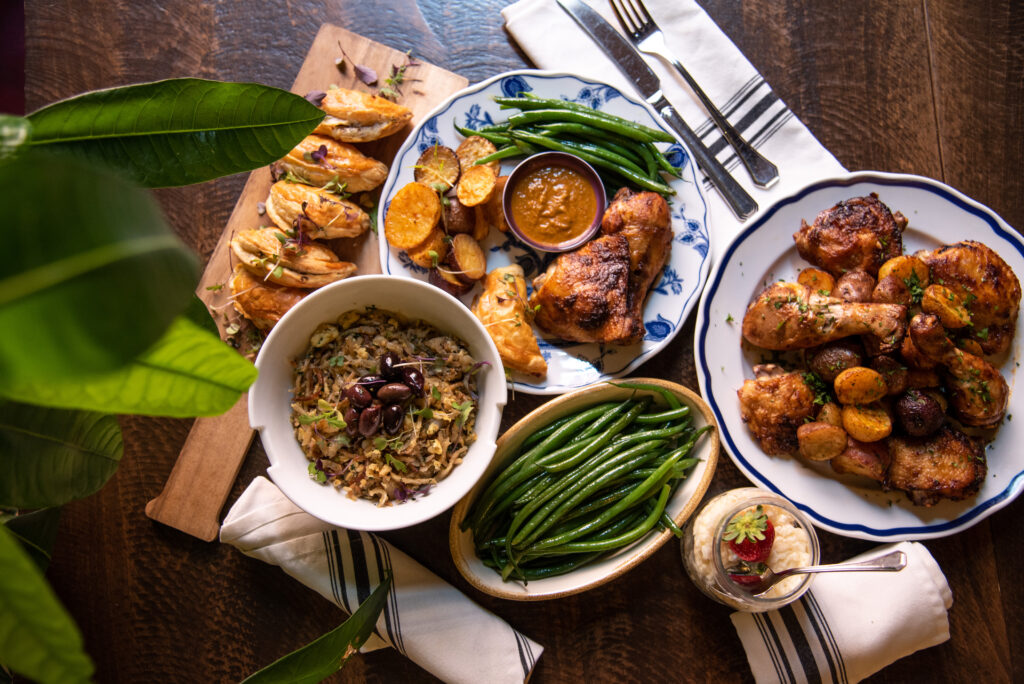 This weeks Take Home Family Style Meal contains…
Pastel de Chaves – a traditional savoury meat pastry stuffed with minced beef, onion, garlic and cheese
Bacalhau à Brás- shredded salt cod with egg, parsley, onion, potato and olives
Marinated Peri-Peri bone-in Chicken with roasted baby potatoes and our ancho chilli sauce to pair
Sautéed Green Beans in butter, olive oil, salt & pepper
For Dessert – Arroz Doce (Rice Pudding) with lemon zest and cinnamon
This Taste of Portugal Take Home Family Style Meal is so delicious because of all our fresh and local ingredients!This meal is only $65 and is suitable for 4 people. There is $5 peninsula delivery only on Friday September 18th between 2-5pm. Max 10km delivery radius. Free delivery with a purchase of a bottle of wine or if more than one meal is purchased.
This meal is available from September 16 – 20, 2020 with pickup available at The Arms at 1515 South Park Street inside the Lord Nelson Hotel – earlier pick ups can be arranged via email at [email protected]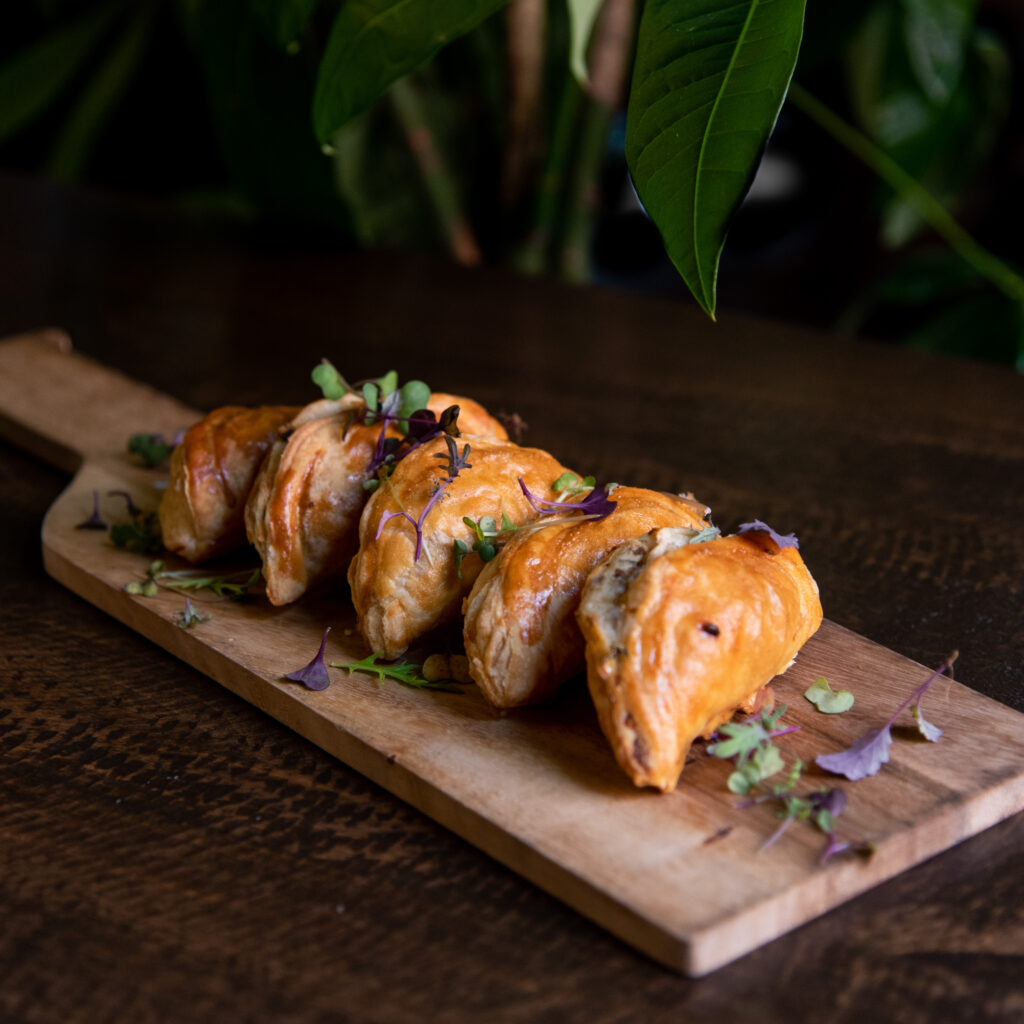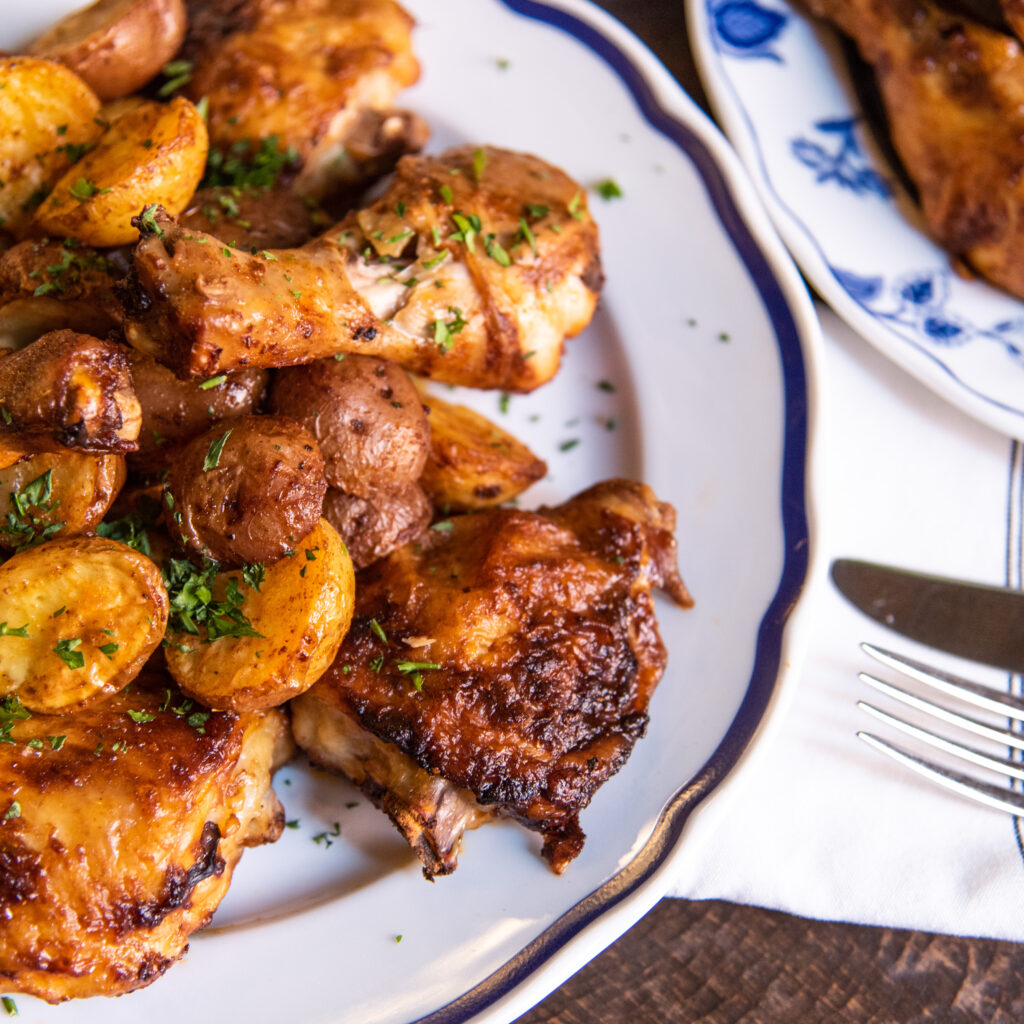 About The Dishes
Pastel de Chaves
The name Pastel de Chaves originated when the pastry was first created in the Portuguese city of Chaves. This puff pastry shell with a mixture of veal, bread, and onions is a Portuguese delicacy. The tradition of preparing pastel de Chaves dates back to 1862, according to a popular legend, the first person to sell these unique pastries was Teresa Feliz Barreira, the founder of the first establishment where pastel de Chaves could be bought.
Bacalhau à Brás
The origin of the Bacalhau à Brás recipe is uncertain, but is said arise in Bairro Alto, an old quarter of Lisbon. This savoury Portuguese dish is made from thin sliced pieces of salted cod, onions and thinly chopped fried potatoes, bound with scrambled eggs. It is garnished with black olives and sprinkled with fresh parsley.
Peri-Peri Chicken
Peri-Peri chicken is a traditional Portuguese dish. The whole pieces of chicken, usually grilled or charred, covered in a chilli based paste or sauce complete this traditional Portuguese dish. Peri-Peri is a Portuguese wild chilli pepper that originally came about by Portuguese explorers in Mozambique from the malagueta pepper which then spread to other Portuguese territories. Our Peri-Peri chicken is bone-in and marinated overnight in olive oil, tomato and garlic. On the side to pair with the chicken is our ancho chilli, roasted paprika, basil, cilantro sauce.
Arroz-Doce (Rice Pudding)
The term "sweet rice" comes from the term Arroz-Doce. Taking cinnamon and citrus while mixing rice with milk/cream creates this sweet rice pudding dessert. Recipes can greatly vary even within a single country. Different types of pudding vary depending on preparation methods and the selected ingredients.
Cooking / Reheating Instructions
Please be aware that oven temperatures and cooking times will vary by appliance. Preheat oven to 375°F for all dishes.
Pastel de Chaves (uncovered) – 15 minutes
Bacalhau à Brás (covered) – 15 minutes
Peri-Peri Chicken & potatoes (covered) – 30 minutes
Green Beans (covered) – 15 minutes