August 19 – 23, 2020
Between August 12 – 16, 2020 Fresh on the Fly offered a Taste of Caribbean Take Home Family Meal. It's a 3 course meal for your family available every Wednesday – Sunday. This meal is suitable for four people and is only $75! Our so very delightful Taste of Caribbean Take Home Family Meal was available for pickup from The Arms Public House or delivery from Fresh on the Fly!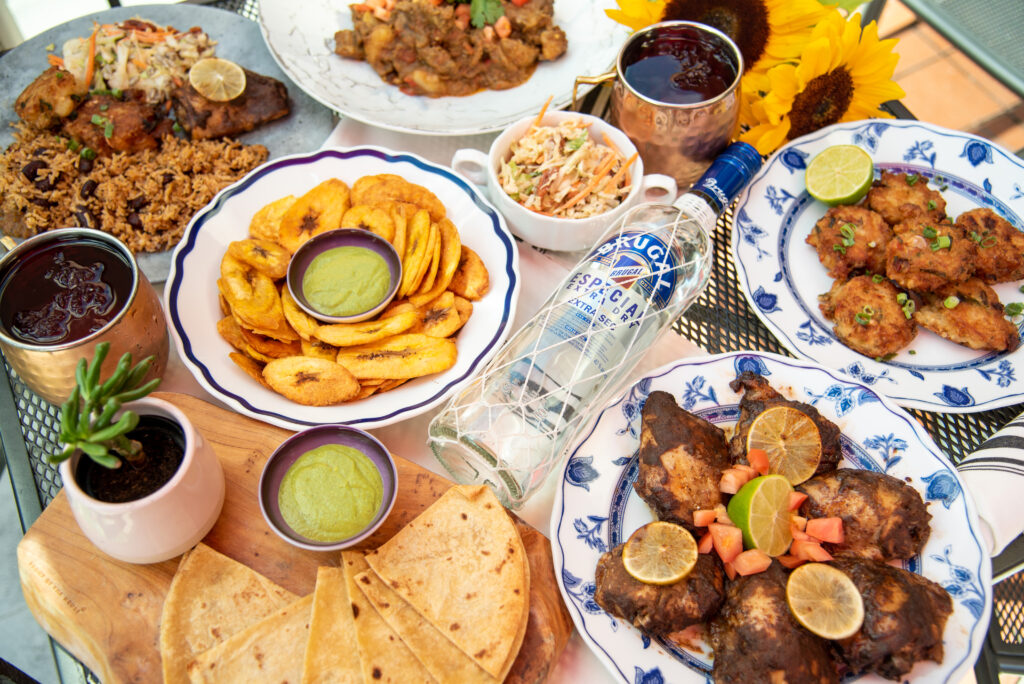 This weeks Take Home Family Style Meal contains…
Tostones, twice fried plantain chips, with magic green sauce featuring avocado, cilantro, pistachio, jalapeño, parsley and olive oil
Stamp & Go Jamaican Saltfish Fritters with salted cod, potato and green onion
Caribbean Coleslaw constructed of cabbage, carrot, pecans and sunflower seeds
Basmati rice with beans, onion and coconut cream
House-made jerk chicken soaked in Coconut rum
Bone-in Mojo Grilled Goat Curry cooked in coconut cream, bay leaf, tomato, herbs & spices with Chapati flatbread
Agua de Jamaica – cold Hibiscus Tea punch Cocktail with fresh lime and ginger
This Family Style Meal will take your tastebuds on vacation! This meal is only $75 and is suitable for 4 people. There is $5 peninsula delivery only on Friday August 21st and August 22nd between 2-5pm. Max 10km delivery radius. Free delivery with purchase of a bottle of wine or more than one meal.
This meal was available from August 19th – 23rd 2020 with pickup available at The Arms at 1515 South Park Street inside the Lord Nelson Hotel – earlier pick ups can be arranged via email at [email protected]
Agua de Jamaica
What is Agua de Jamaica?
Agua de Jamaica is hibiscus herbal tea made from an infusion of hibiscus flowers. Hibiscus is a genus of flowering plants in the mallow family, Malvaceae. Comprising of several hundred species that are native to warm temperate, subtropical and tropical regions throughout the world.
Benefits of Agua de Jamaica
There are many benefits from drinking Agua de Jamaica, also known as hibiscus tea. Agua de Jamaica is full of antioxidants and may help lower blood fat levels and lower blood pressure while also boosting liver health. Visit here for more information about these health benefits.
How to Stir up Agua de Jamaica
In this weeks Take Home Family Meal Taste of Caribbean, we are sharing our love of fun drinks! Agua de Jamaica Iced Tea: A refreshing Caribbean agua fresca – steeped dried hibiscus flowers with freshly squeezed lime, spice mix, pineapple juice, demerara sugar topped with ice. Your Family Meal will come with a container of the iced tea – this can make 4 full sized drinks or one large punch, all you need to do is add ice (you also have the option to add your favourite white or flavoured rum!) Stir everything together in your favourite glass and enjoy!!
Featured rum: Brugal Rum