Ready to try something new in 2022? Each week Fresh On The Fly and The Arms Public House offers a dinner perfectly portioned for 2, 4 or more people. Our take home family style meals are available for pickup from The Arms inside the Lord Nelson Hotel, or you can have them delivered to your home on Friday afternoon. Packed up with reheating instructions, all you'll have to do is preheat the oven. Each family style take home meal is meant to bring your friends and family together to eat well and spend more time with each other sharing some of the many dishes in this weeks Taste of Hungary!
Fresh on the Fly offers a wide selection of gourmet meals delivered to your door on the Halifax Peninsula. Order your next meal today!
This Take Home Family Meal offered a family dinner perfectly portioned and ready to reheat. Appetizers, sides, main course and dessert all packed together! Customers can pickup from The Arms Public House or enjoy the ease of Friday delivery from Fresh on the Fly! Check out more of our meals HERE!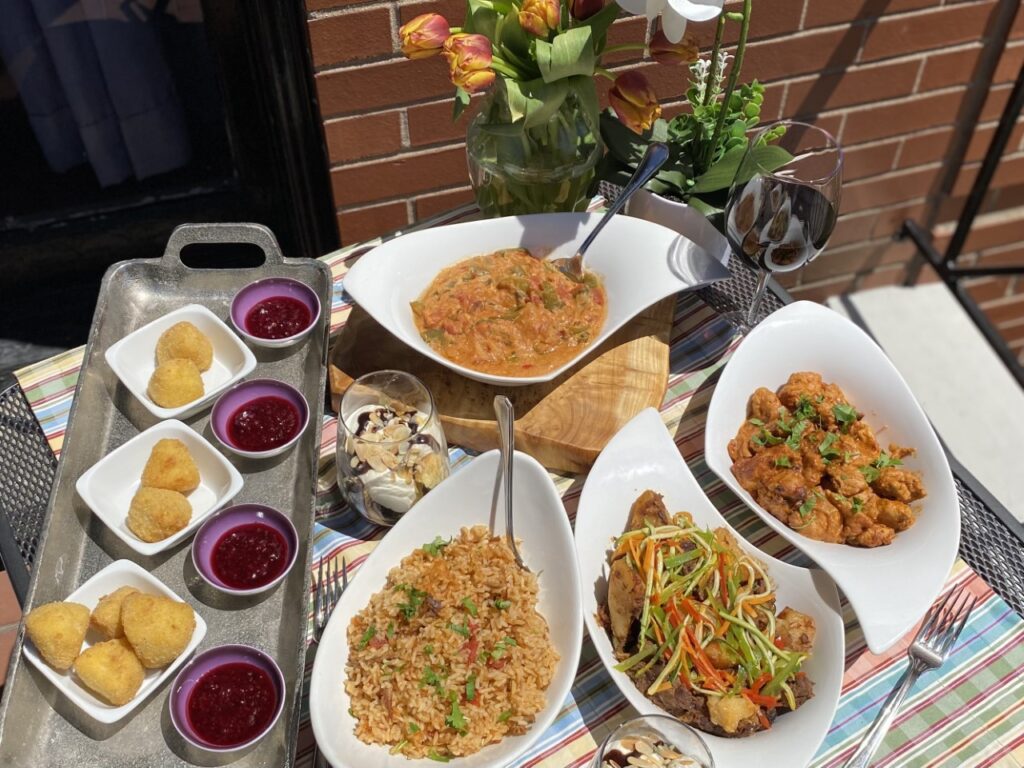 Our Taste of Hungary meal contained…
· Rántott sajt: Fried cheese is a traditional Hungarian specialty, breaded and fried until golden and crispy. Served with a mixed berry compote!
· Lecsó (Hungarian Tomato-Pepper Stew): Hungarian lecsó (LEH-choh) is a vegetable stew that combines three of Hungary's favorite ingredients—peppers, tomatoes, and paprika. Hungary's national spice is paprika so you will see it frequently in their cuisine. It's similar to French ratatouille.
· Gulyás/Goulash: Gulyás, means "herdsman" and its origins date back to the 9th century. There are many variations and we've made ours with beef and potato!
· Bácskai Rizses Hús: This dish is popular both in Hungary and its southern neighbor, Serbia, based on a casserole called djuvec. It's essentially a rich rice pilaf studded with bits of stewed pork.
· Chicken Paprikash: One of the most famous and beloved of all Hungarian dishes, this authentic Chicken Paprikash recipe features tender chicken in an unforgettably rich, flavorful and creamy paprika-infused sauce!
· Somloi Galuska (Hungarian Trifle): Made with almond sponge cake and chocolate sponge, sliced almonds, chocolate sauce, and whipped cream.
The Fresh on the Fly ordering details!
Our Taste of Hungary family style dinner was suitable for two people ($60) four people ($95). Available for pickup from The Arms Public House or delivery from Fresh on the Fly, from May 25-29. There is $7.50 peninsula delivery on Friday May 27 between 2-5pm. Max 10km delivery radius. You can pick up as well! Pickup at The Arms at 1515 South Park Street inside the Lord Nelson Hotel. Give us a shout via email [email protected] if you need to pick up earlier!