Between December 9-13, 2020 Fresh on the Fly offered a Beef Wellington Take Home Family Meal. It's a 3 course meal for your family available every Wednesday – Sunday. This meal is suitable for four people and was only $95! Our Comfort Food Take Home Family Meal offers delicious dishes and flavours. This meal is available for pickup from The Arms Public House or delivery from Fresh on the Fly!
This Weeks Take Home Family Style Meal Contains…
Mixed Greens salad with roasted beets, goat cheese, asparagus with toasted peach vinaigrette
Beef Wellington – Each beef tenderloin is wrapped in mushroom duxelles and covered in prosciutto and puff pastry
Truffle mashed potatoes
Green Bean almondine
Belgian chocolate hazelnut ganache cake
$95
Our Beef Wellington Take Home Family Meal is so delicious because of all our fresh and local ingredients!This meal is only $95 and is suitable for 4 people. There is $5 peninsula delivery only on Friday December 11th between 2-5pm. Max 10km delivery radius. Free delivery with a purchase of a bottle of wine or if more than one meal is purchased.
This meal is available from December 9-13, 2020 with pickup available at The Armsat 1515 South Park Street inside the Lord Nelson Hotel – earlier pick ups can be arranged via email at [email protected]
Plan and Pre Order your Holiday Meals with Fresh on the Fly!
Fresh on the Fly is offering Take Home Holiday Family Meals! Including a holiday turkey dinner and a steak oscar New Years Eve meal! These meals are meant for two to four people. Pickup is available from The Arms inside the Lord Nelson Hotel, or have delivered to your home on Friday afternoon. Packed up with reheating instructions, all you'll have to do is preheat the oven. Easy, hot and delicious! Check out the menus HERE.
For a Limited Time Only…
As a special addition to help get into the holiday spirit, we are offering a gourmet cookie platter! For only $20 you can order this platter as a festive treat, offered until Christmas Eve! This platter includes short bread cookies, gingerbread men, meringues & plum pudding. For a limited time while supplies last we are offering incredible Rockefeller Oysters!! Only $24 for 12 oysters! Both the cookies and Rockefeller oysters can be added on in addition to any Family Meal or ordered by itself.
To order call 902-932-8585 or email [email protected]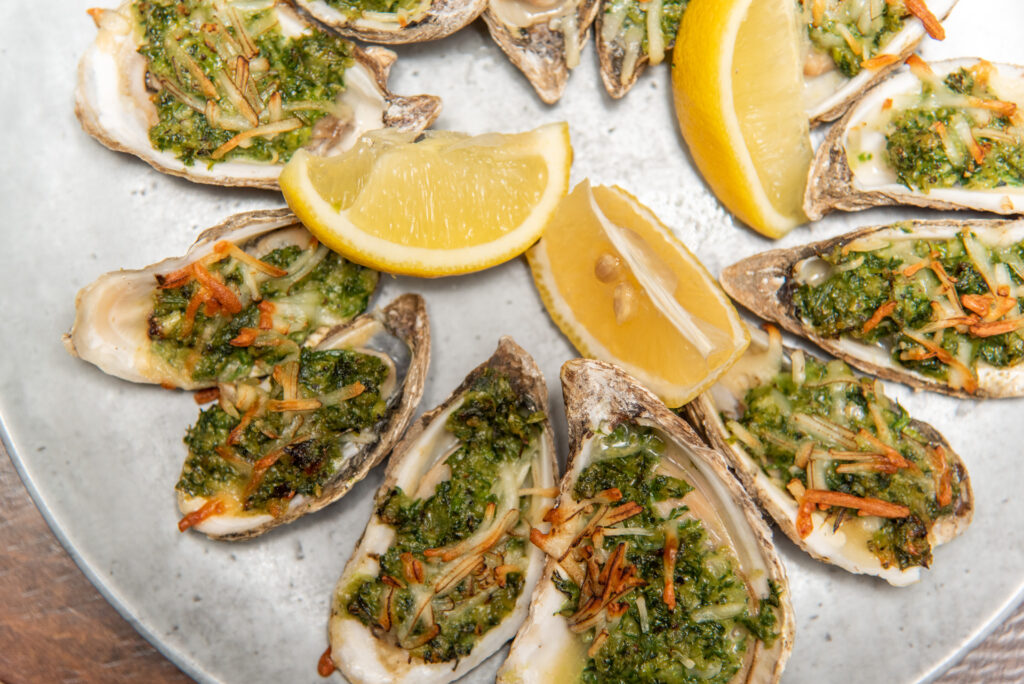 Beef Wellington Cooking / Reheating Instructions
Please be aware that oven temperatures and cooking times will vary by appliance. Preheat oven to 375°F for all dishes.
Beef Wellington (uncovered) – 32 minutes for medium rare. A meat thermometer should read 115 degrees when placed in the centre. After cooking time remove Wellington and leave on the roasting pan and rest for 11 minutes. For medium, roast an extra 5 minutes and so forth.
Mashed Potatoes (covered) – 25 minutes
Green Bean Almandine (covered) – 10 minutes