Between April 14-18, 2021 Fresh on the Fly offered a Indian Inspired Take Home Meal. It's a three course meal suitable for four people available every Wednesday – Sunday. This meal is suitable for four people and was only $89! This Indian Inspired Take Home Meal offers delicious dishes and flavours. This meal is available for pickup from The Arms Public House or delivery from Fresh on the Fly! Check out our Take Home Meals suitable for four people HERE!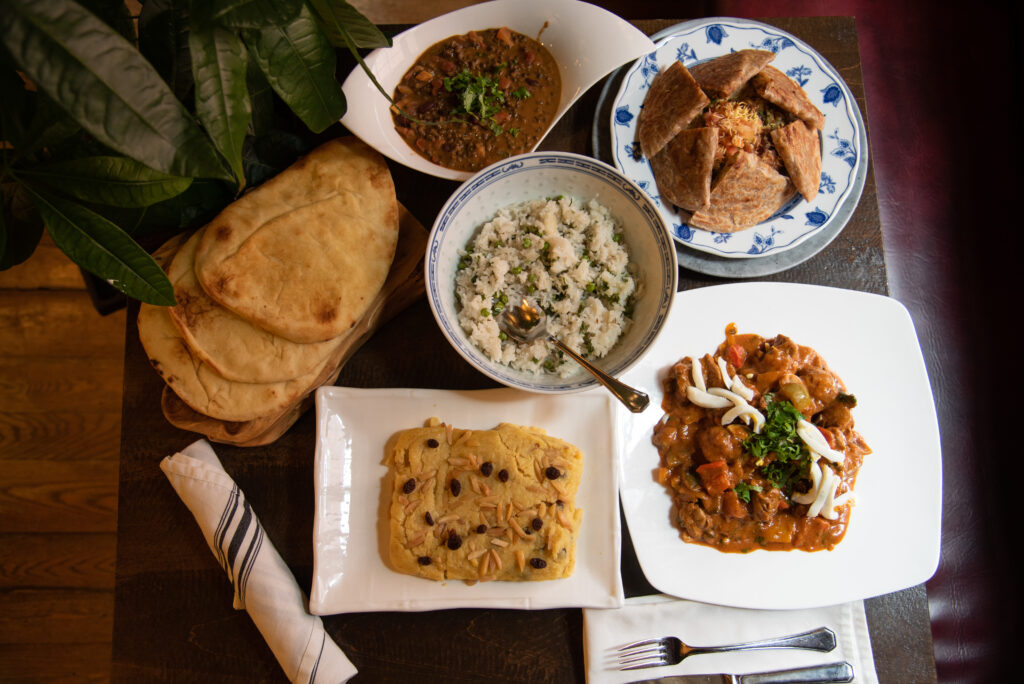 This Weeks Take Home Family Style Dinner Contains…
Shrimp stuffed baida roti with papri chaat – golden fried bread stuffed with shrimp, water chestnuts, scallions, chilies & cilantro (should be eaten 4-5 hours once receiving the meal)
Chicken Jalfrezi with stir-fried peppers, onions, mushrooms in a mild spice tomato and cream based sauce
Dal makhani – black lentil and kidney beans in a makhani style stew
Naan Bread
Peas Pulao – rice with peas and cilantro
badam suji halwa – almond flour and semolina pudding
This family style dinner is suitable for four people for $89! This Take Home Family Meal is available for pickup from The Arms Public House or delivery from Fresh on the Fly! This meal is available from April 7-11, 2021. There is $5 peninsula delivery only on Friday April 9th between 2-5pm. Max 10km delivery radius. Free delivery with a purchase of a bottle of wine or if more than one meal is purchased. Pickup available at The Arms at 1515 South Park Street inside the Lord Nelson Hotel – earlier pick ups can be arranged via email at [email protected]a
About the Dishes
Papri Chaat
Papri chat or papri chaat is a popular traditional fast food and street food from the Indian subcontinent, probably in North India, Bangladesh and Pakistan. Papri chat is traditionally prepared using crisp fried dough wafers known as papri, along with boiled chick peas, boiled potatoes, dahi (yogurt) and tamarind chutney and topped with chat masala and sev.
Baida Roti
Baida means egg and Baida roti is an egg-based paratha parcel. You make the paratha dough with refined flour and stuff it with minced meat or minced chicken mixture along with egg and other spices.
Chicken Jalfrezi
Chicken Jalfrezi is a delightfully flavorful curry with tender, juicy chunks of chicken in a spicy tomato sauce studded with stir-fried peppers and onions.
Dal makhani
is a dish originating in New Delhi, India.[2] It is a modern take on the age-old Urad ki Dal (black lentil dal also known as Maa ki Dal).
Badam Suji Halwa
Light, fluffy and mild almond flour cake with raisins and topped with sliced almonds
Family Style Dinner Reheating Instructions
Please be aware that oven temperatures and cooking times will vary by appliance. Preheat Oven to 375° for all dishes.
Naan (covered) – 15 minutes
Dal makhani (covered) – 20 minutes
Peas Pulao (covered) – 20 minutes, sprinkle with a little bit of water before putting in oven
Chicken Jalfrezi (covered) – 30 minutes
Badam Suji Halwa (covered) – 15 minutes